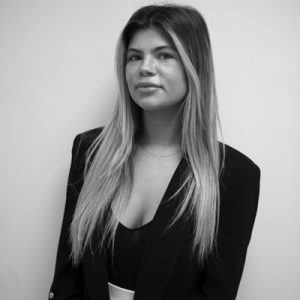 In this Q&A Total Security Summit's Sales Manager, Macy Townsend (pictured, right), reveals what solutions events delegates are looking for most in 2023, plus how the unique event format works for both suppliers and industry professionals…
What are the key trends in the security industry for 2023?
From our recent research and looking at the buyers demands, the focus this year is access control and how AI can assist security and link with alarm systems. Traditional security areas also continue to be explored.
What are the products and services security professionals are looking for most in the year ahead?
As mentioned above the predominant areas are, Access Control but I have also seen a large increase in Alarm Systems, AI, Business Continuity, CCTV, Crisis Management, Risk Management Training and many more
Tell us about the Total Security Summit format and its unique benefits for industry suppliers.
The event takes places over a course of two days to maximise networking opportunities with buyers during breaks, lunches and a Gala Dinner. During the two days, the Summit follows an award-winning structure that brings senior security buyers together with industry leading solution providers for a series of pre-qualified 1-2-1 meetings; essentially this means suppliers will only be meeting with buyers who have specifically requested them and vice versa.
How do you work with industry suppliers in the lead up to a Summit?
Once confirmed, suppliers are asked to submit their Company profiles. They then receive a list of confirmed buyers who they would like to meet with. Personalised itineraries are then created based on this information, taking into consideration the suppliers that the buyers will also have selected. This system ensures that the only meetings taking place on the event day, are those that have been pre-qualified by both buyer and supplier.
What tips would you give to industry suppliers and attending delegates to maximise their time at the Summit?
Delegates should come with an open mind as a supplier will have been given the opportunity to research the list of confirmed buyers ahead of the event, therefore there will be a reason they have requested a meeting with you. Equally during the process prior to the event ensure you research the suppliers attending so you can match with those who can meet your needs.
Suppliers should prioritise the buyers and select to meet with as many as possible to maximise your time at the event. As the Summit is a two-day event, you could think of your 1-2-1 meetings as corporate speed dating, followed by a dinner date in the evening with anyone you would like to follow up with.
Everyone can take advantage of the multiple networking opportunities we run over the course of the event.  Keep an eye out for the name badges and those you might want to speak to.
For more information on the total security summit please contact Macy @ m.townsend@forumevents.co.uk or 01992 374 091 
Or go to Total Security Summit | Forum Events